Se celebra el 50 aniversario del debut de Rory Gallagher, con una serie de reediciones a la venta en septiembre: edición deluxe 4cd + 1dvd, 2cd, edición limitada 3LP y digital.

Para celebrar el 50 aniversario del álbum debut en solitario de Rory Gallagher en 1971, anuncia el lanzamiento el 3 de septiembre de 2021 de una Edición Deluxe de 4 cds + dvd que incluirá una nueva mezcla del álbum original, treinta tomas inéditas y alternativas, un concierto en John Peel Sunday Concert de la BBC Radio de 1971 de seis canciones, más cuatro pistas de sesión de la BBC Radio Sounds Of The Seventies en 1971, todas masterizadas en Abbey Road Studios. Las ediciones 2cd y 3LP del álbum serán versiones recortadas del Deluxe Boxset.
También se incluye un dvd de 50 minutos inédito del primer concierto en solitario de Rory Gallagher que se filmó en París para el programa de televisión 'Pop Deux'.
Esta edición extensa también contendrá un libro de tapa dura de 32 páginas con muchas fotografías nunca antes vistas del fotógrafo de Barrie Wentzell, ensayos, letras de canciones escritas a mano por Rory y un póster exclusivo de edición limitada.
La caja también incluirá notas exclusivas escritas por su hermano y manager Donal Gallagher, su bajista Gerry McAvoy (1970-1991) y el fotógrafo Barry Wentzel, además de una entrevista completa en 1971 con Rory por el periodista Roy Eldridge.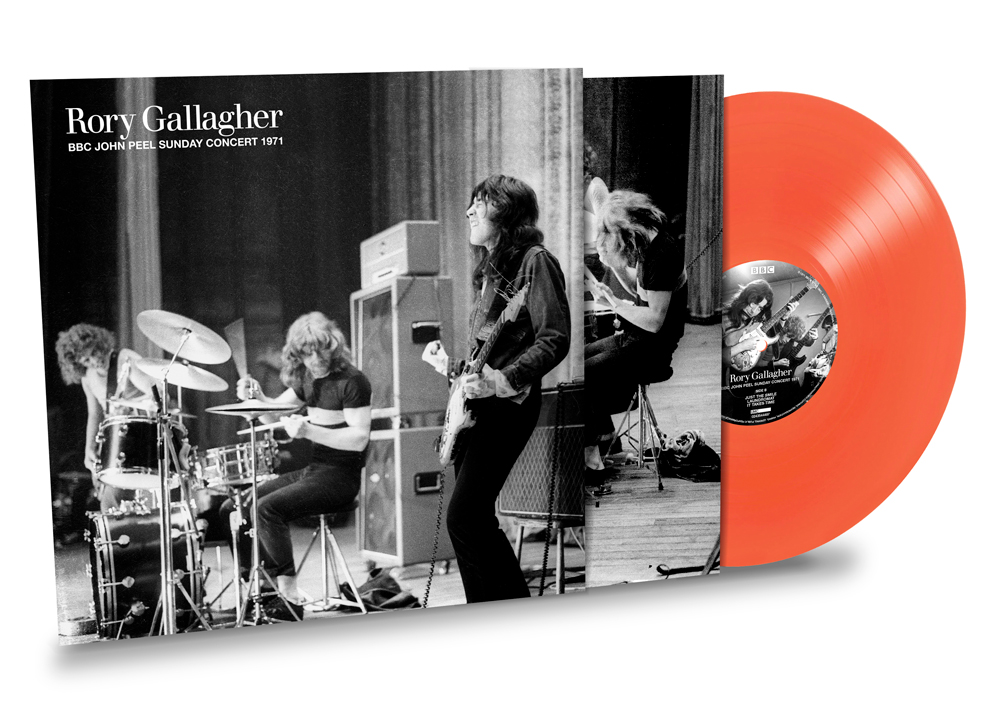 El álbum debut incluye algunas de las canciones más queridas de Rory, como 'I Fall Apart' (la segunda canción más reproducida de Rory), 'Laundromat' y 'Just The Smile'. También se desenterraron durante las sesiones de mezcla de 2021 el inédito 'At The Bottom', una pista que Rory terminó regrabando para su álbum en 1975 'Against The Grain', más 'Advision Jam', un instrumental. La grabación muestra a Rory Gallagher en la guitarra y la voz principal, así como en el saxo alto, la armónica y la mandolina, Gerry McAvoy en el bajo y Wilgar Campbell en la batería. Vincent Crane de Atomic Rooster toca el piano en dos de las diez canciones del álbum 'Wave Myself Goodbye' y 'I'm Not Surprised'.
Rory Gallagher no había tocado en vivo desde que su banda anterior, Taste, se disolvió el 24 de octubre de 1970. Cuando se lanzó el álbum en solitario en mayo de 1971, se embarcó en una gira de 16 fechas por el Reino Unido, diez días de gira por Irlanda y una breve experiencia por Suiza.
"Cuando me preguntaron '¿Cómo se siente ser el mejor guitarrista del mundo?', respondí. 'No lo sé, ¿por qué no vas y le preguntas a Rory Gallagher?'" Jimi Hendrix
Grabado en los legendarios Advision Studios en Fitzrovia, Londres, el álbum debut homónimo de Rory muestra al guitarrista irlandés como un intérprete multifacético del blues que va del más acústico hasta el blues pesado. Advision fue uno de los estudios de grabación más populares de los años 60 y 70 y hogar de álbumes clásicos grabados por The Yardbirds, The Who, The Move, T. Rex, David Bowie, Kate Bush, Elton John, Slade, Gentle Giant, Gerry Rafferty y muchos más.
Si alguna vez hubo un "músico de los músicos", ese elogio pertenece a Rory Gallagher. Reconocido por sus increíbles actuaciones en vivo y muy respetado por su dedicación a su oficio, murió en 1995, con solo 47 años.
La reputación de Rory ha seguido floreciendo en los años posteriores. De hecho, algunas de las figuras más seminales del rock, desde Jimi Hendrix a Eric Clapton, Joe Satriani o Joe Bonamassa, Brian May de Queen a Johnny Marr de The Smiths, Slash de Guns N Roses a Edge de U2, lo han descrito como influencia. Rory sigue siendo un apoyo para todos los aspirantes a héroes de la guitarra en el siglo XXI.
Formatos y Temas
Edición Deluxe 4CD+1DVD / Súper Deluxe Digital
CD1
Laundromat – 50th Anniversary Edition
Just The Smile – 50th Anniversary Edition
I Fall Apart – 50th Anniversary Edition
Wave Myself Goodbye – 50th Anniversary Edition
Hands Up – 50th Anniversary Edition
Sinner Boy – 50th Anniversary Edition
For The Last Time – 50th Anniversary Edition
It's You – 50th Anniversary Edition
I'm Not Surprised – 50th Anniversary Edition
Can't Believe It's True – 50th Anniversary Edition
CD2
Gypsy Woman – Tangerine Studio Session
It Takes Time – Tangerine Studio Session
I Fall Apart – Tangerine Studio Session
Wave Myself Goodbye – Tangerine Studio Session
At The Bottom – Alternate Take 1
At The Bottom – Alternate Take 2
At The Bottom – Alternate Take 3
At The Bottom – Alternate Take 4
Advision Jam
Laundromat – Alternate Take 1
Just The Smile – Alternate Take 1
Just The Smile – Alternate Take 2
I Fall Apart – Alternate Take 1
Wave Myself Goodbye – Alternate Take 1
Wave Myself Goodbye – Alternate Take 2
CD3
Hands Up – Alternate Take 1
Hands Up – Alternate Take 2
Hands Up – Alternate Take 3
Hands Up – Alternate Take 4
Hands Up – Alternate Take 5
Hands Up – Alternate Take 6
Sinner Boy – Alternate Take 1
Sinner Boy – Alternate Take 2
Sinner Boy – Alternate Take 3
For The Last Time – Alternate Take 1
For The Last Time – Alternate Take 2
For The Last Time – Alternate Take 3
It's You – Alternate Take 1
It's You – Alternate Take 2
I'm Not Surprised – Alternate Take 1
I'm Not Surprised – Alternate Take 2
Can't Believe It's True – Alternate Take 1
CD4
For The Last Time – Live On BBC «Sounds Of The Seventies» / 1971*
Laundromat – Live On BBC «Sounds Of The Seventies» / 1971*
It Takes Time – Live On BBC «Sounds Of The Seventies» / 1971*
I Fall Apart – Live On BBC «Sounds Of The Seventies» / 1971*
Hands Up – Live On BBC «John Peel Sunday Concert» / 1971
For The Last Time – Live On BBC «John Peel Sunday Concert» / 1971
In Your Town – Live On BBC «John Peel Sunday Concert» / 1971
Just The Smile – Live On BBC «John Peel Sunday Concert» / 1971
Laundromat – Live On BBC «John Peel Sunday Concert» / 1971
It Takes Time – Live On BBC «John Peel Sunday Concert» / 1971
(*Off Air Recording)
DVD
Entrevista
Hands Up
Wave Myself Goodbye
It Takes Time
Sinner Boy
For the Last Time
The Same Thing
I Fall Apart
2CD
CD1
Laundromat – 50th Anniversary Edition
Just The Smile – 50th Anniversary Edition
I Fall Apart – 50th Anniversary Edition
Wave Myself Goodbye – 50th Anniversary Edition
Hands Up – 50th Anniversary Edition
Sinner Boy – 50th Anniversary Edition
For The Last Time – 50th Anniversary Edition
It's You – 50th Anniversary Edition
I'm Not Surprised – 50th Anniversary Edition
Can't Believe It's True – 50th Anniversary Edition
CD2
Gypsy Woman – Tangerine Studio Session
It Takes Time – Tangerine Studio Session
I Fall Apart – Tangerine Studio Session
At The Bottom – Alternate Take 3
At The Bottom – Alternate Take 4
Advision Jam
Laundromat – Alternate Take 1
Just The Smile – Alternate Take 1
Wave Myself Goodbye – Alternate Take 2
Hands Up – Alternate Take 2
Sinner Boy – Alternate Take 3
For The Last Time – Alternate Take 1
It's You – Alternate Take 2
I'm Not Surprised – Alternate Take 1
For The Last Time – Live On BBC «Sounds Of The Seventies» / 1971*
Laundromat – Live On BBC «Sounds Of The Seventies» / 1971*
It Takes Time – Live On BBC «Sounds Of The Seventies» / 1971*
I Fall Apart – Live On BBC «Sounds Of The Seventies» / 1971*
(*Off Air Recording)
3LP
CARA A
Laundromat – 50th Anniversary Edition
Just The Smile – 50th Anniversary Edition
I Fall Apart – 50th Anniversary Edition
Wave Myself Goodbye – 50th Anniversary Edition
Hands Up – 50th Anniversary Edition
CARA B
Sinner Boy – 50th Anniversary Edition
For The Last Time – 50th Anniversary Edition
It's You – 50th Anniversary Edition
I'm Not Surprised – 50th Anniversary Edition
Can't Believe It's True – 50th Anniversary Edition
CARA C
Gypsy Woman – Tangerine Studio Session
It Takes Time – Tangerine Studio Session
I Fall Apart – Tangerine Studio Session
At The Bottom – Alternate Take 3
At The Bottom – Alternate Take 4
Advision Jam
CARA D
Laundromat – Alternate Take 1
Just The Smile – Alternate Take 1
Wave Myself Goodbye – Alternate Take 2
Hands Up – Alternate Take 2
CARA E
Sinner Boy – Alternate Take 3
For The Last Time – Alternate Take 1
It's You – Alternate Take 2
I'm Not Surprised – Alternate Take 1
CARA F
For The Last Time – Live On BBC «Sounds Of The Seventies» / 1971*
Laundromat – Live On BBC «Sounds Of The Seventies» / 1971*
It Takes Time – Live On BBC «Sounds Of The Seventies» / 1971*
I Fall Apart – Live On BBC «Sounds Of The Seventies» / 1971*
(*Off Air Recording)
1LP A COLOR Edición D2C – John Peel Sunday Concert 28/08/1971
CARA A
Hands Up – Live On BBC «John Peel Sunday Concert» / 1971
For The Last Time – Live On BBC «John Peel Sunday Concert» / 1971
In Your Town – Live On BBC «John Peel Sunday Concert» / 1971
CARA B
Just The Smile – Live On BBC «John Peel Sunday Concert» / 1971
Laundromat – Live On BBC «John Peel Sunday Concert» / 1971
It Takes Time – Live On BBC «John Peel Sunday Concert» / 1971
Edición Deluxe Digital HD / Edición Deluxe Digital MFiT / Edición Deluxe Digital Estándar
Laundromat – 50th Anniversary Edition
Just The Smile – 50th Anniversary Edition
I Fall Apart – 50th Anniversary Edition
Wave Myself Goodbye – 50th Anniversary Edition
Hands Up – 50th Anniversary Edition
Sinner Boy – 50th Anniversary Edition
For The Last Time – 50th Anniversary Edition
It's You – 50th Anniversary Edition
I'm Not Surprised – 50th Anniversary Edition
Can't Believe It's True – 50th Anniversary Edition
Gypsy Woman – Tangerine Studio Session
It Takes Time – Tangerine Studio Session
I Fall Apart – Tangerine Studio Session
At The Bottom – Alternate Take 3
At The Bottom – Alternate Take 4
Advision Jam
Laundromat – Alternate Take 1
Just The Smile – Alternate Take 1
Wave Myself Goodbye – Alternate Take 2
Hands Up – Alternate Take 2
Sinner Boy – Alternate Take 3
For The Last Time – Alternate Take 1
It's You – Alternate Take 2