'Then Play On', el tercer álbum de estudio de Fleetwood Mac, considerado como uno de los básicos del blues británico, se reedita en CD y 2LP 18 de septiembre de 2020.
En esta nueva edición se respetará el formato británico del álbum, además contendrá cuatro bonus track. Todas las pistas han sido remasterizadas a baja velocidad para conseguir un sonido más dinámico. A esto se añade, que la versión 2LP se imprimirá en vinilos negros de 180 g.
El formato CD será formato LibroDisco, mientras que el 2Lp llevará además un libro de 16 páginas. Además contaran con anotaciones inéditas de Anthony Bozza (biógrafo de la banda) y un prólogo especial del fundador Mick Fleetwood.
Editado por primera vez el 19 de septiembre de 1969, 'Then Play On' fue el primero de los discos de Fleetwood Mac en presentar a Danny Kirwan, y el último donde grabó el recientemente desaparecido Peter Green.
'Then Play On' contiene algunas de las primeras interpretaciones de clásicos en la historia de la música e indispensables en la discográfica de Fleetwood Mac, como 'Rattlesnake Shake', 'The Green Manalishi', 'Searching For Madge', 'Oh Well Pt.1' y 'Oh Well Pt.2'.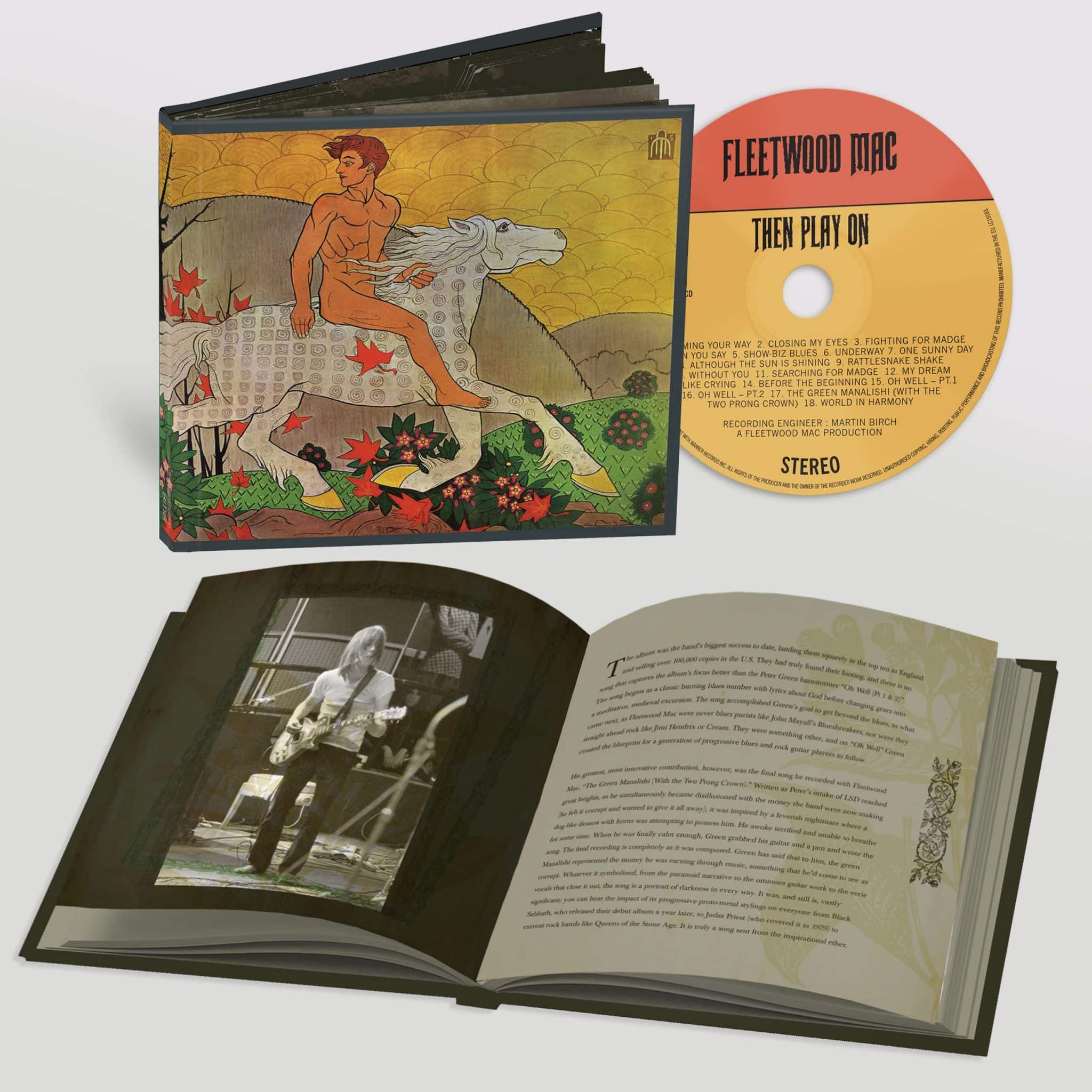 Fleetwood Mac, Then Play On: Celebration Edition (BMGCAT448, 2020)
Coming Your Way
Closing My Eyes
Fighting For Madge
When You Say
Show-Biz Blues
Under Way
One Sunny Day
Although The Sun Is Shining
Rattlesnake Shake
Without You
Searching For Madge
My Dream
Like Crying
Before The Beginning
Bonus tracks:
Oh Well – Pt. 1
Oh Well – Pt. 2
The Green Manalishi ( With The Two Prong Crown)
World In Harmony
Tracks 1-14 originally released as Then Play On , Reprise U.K. LP RSLP 9000, 1969.
Tracks 15 and 16 released as Reprise single RS 27000, 1969.
Tracks 17 and 18 released as Reprise single RS 27007, 1970.