Toda una concentración de talentos del rock y blues junto a Mick Fleetwood rindiendo tributo al legado de Peter Green en Fleetwood Mac.
El esperado disco grabado el 25 de febrero de 2020 en el London Palladium en Londres, como homenaje a Peter Green y a los primeros años de Fleetwood Mac, con músicos de Pink Floyd, ZZ Top, Metallica, The Who, Aerosmith, Oasis, The Rolling Stones, etc. saldrá a la venta el 30 de abril.
Este concierto además ahora adquiere un significado particularmente conmovedor, con el desafortunado fallecimiento del gran genio Peter Green el 25 Julio de 2020.
La banda Fleetwood Mac, estaba formada por Mick Fleetwood junto a los reputados músicos Andy Fairweather Low, Dave Bronze, Rick Vito, Jonny Lang y Ricky Peterson. Y con ellos un elenco de invitados únicos: Pete Townshend (The Who), David Gilmour (Pink Floyd), Steven Tyler (Aerosmith), Bill Wyman (The Rolling Stones), Billy Gibbons (ZZ Top), Kirk Hammett (Metallica), Noel Gallagher (oasis), Christine McVie (Fleetwood Mac), John Mayall (The Bluesbreakers),
Zak Starkey (The Who, Oasis), Neil Finn (Crowded House), y Jeremy Spencer (fundador de Fleetwood Mac).
El mítico productor Glyn Johns (Led Zeppelin, The Rolling Stones, The Who, Eagles, Bob Dylan, Eric Clapton, The Clash, Ryan Adams, Rod Stewart, …) se unió al proyecto como productor ejecutivo y produciendo el sonido del show y posteriormente el álbum.
Mick Fleetwood seleccionó la lista de artistas que actuaron y comenta: "Peter fue mi mayor mentor y me alegra mucho rendir homenaje a su increíble talento. El concierto es un homenaje a aquellos primeros días del blues donde todos comenzamos, y es importante reconocer el profundo impacto que Peter Green causó con sus composiciones a los primeros Fleetwood Mac, por extensión, al resto del mundo musical. Los años de nuestro gran álbum 'Then Play On'".
Mick Fleetwood & Friends 'Celebrate The Music Of Peter Green And The Early Years Of Fleetwood Mac' está a la venta en la tienda oficial y en FNAC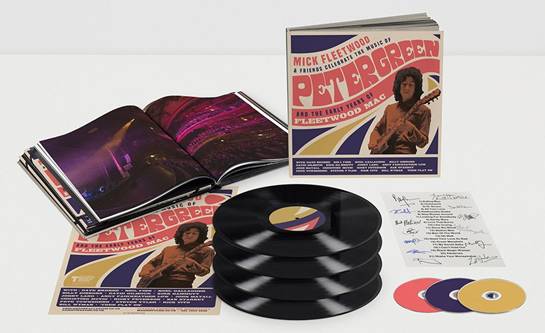 Incluye un impresionante libro en tapa dura con notas del periodista Anthony Bozza y Mick Fleetwood. Increíbles fotos del concierto, además de imágenes en backstage y en los ensayos previos.
Formatos:
– DELUXE: Cuatro vinilos. Libro 44 páginas + 2CD + HD Blu-Ray en estéreo 2.0, 5.1 Sonido Surround y Dolby Atmos.
– 4LP: Cuatro vinilos (carpeta desplegable).
– 2cd+blu-ray: Doble CD. Libro 20 páginas. Con HD Blu-Ray en estéreo 2.0, 5.1 Sonido Surround y Dolby Atmos.
– digital: Formato digital.
Act I
1. Rolling Man (feat. Rick Vito)
2. Homework (feat. Jonny Lang)
3. Doctor Brown (feat. Billy Gibbons)
4. All Your Love (feat. John Mayall)
5. Rattlesnake Shake (feat. Billy Gibbons & Steven Tyler)
6. Stop Messin' Round (feat. Christine McVie)
7. Looking For Somebody (feat. Christine McVie)
8. Sandy Mary (feat. Jonny Lang)
9. Love That Burns (feat. Rick Vito)
10. The World Keep Turning (feat. Noel Gallagher)
11. Like Crying (feat. Noel Gallagher)
12. No Place To Go (feat. Rick Vito)
13. Station Man (feat. Pete Townshend)
Act II
1. Man Of The World (feat. Neil Finn)
2. Oh Well (Pt.1) (feat. Billy Gibbons & Steven Tyler)
3. Oh Well (Pt.2) (feat. David Gilmour)
4. Need Your Love So Bad (feat. Jonny Lang)
5. Black Magic Woman (feat. Rick Vito)
6. The Sky Is Crying (feat. Jeremy Spencer)
7. I Can't Hold Out (feat. Jeremy Spencer)
8. The Green Manalishi (With The Two Prong Crown) (feat. Billy Gibbons & Kirk Hammett)
9. Albatross (feat. David Gilmour)
10. Shake Your Moneymaker (group finale)